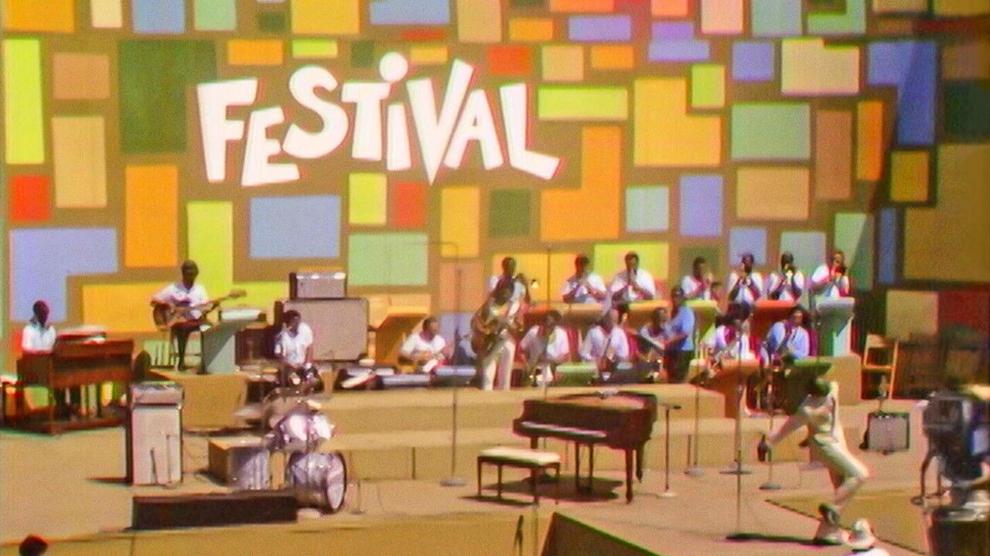 The summer of 1969 was a season of excitement and bittersweetness in between the tragedies that occurred. At the beginning of Ahmir (AKA, Questlove) Thompson's new concert documentary "Summer of Soul," we get a recap of the second half of the 1960s, with assassination after assassination in politics from John and Bobby Kennedy to Martin Luther King, Jr. and Malcolm X. Racial tensions were growing in major, urban cities, like Harlem, and it's suggested in the documentary that one attempt to curb more violence from happening in the streets was to have a fun, public gathering: the Harlem Cultural Festival. For six Sundays from late June to mid-August, a series of music festival performances took place in Mt. Morris Park right as the world was changing around them. Unlike its predecessor Monterey Pop or immediate successor Woodstock or—God forbid—even Altamont at the very end of 1969; Harlem Cultural was barely marketed and not even officially released as a full-length feature until right now.
            While watching classic rock docs like DA Pennebaker's "Monterey Pop" (1968) or Michael Wadleigh's "Woodstock" (1970), we get performances and many wide shots from the large audiences that sometimes show a mix of races. But generally, more often than not, they're largely white. Here with "Summer of Soul," it's the complete opposite. Every band is fronted by a black artist or group, and the vast majority of the crowds are also black. The only white person even featured in the modern interview footage is drummer Greg Errico of Sly & the Family Stone. The new perspective instantly makes "Summer of Soul" stand out from everything we've already seen about the hippie generation.
            In between some exceptional and technologically impressive concert footage of legendary music acts such as Sly, Gladys Knight & the Pips, the 5th Dimension, Stevie Wonder, Nina Simone, BB King and the Chamber Bros, we get a brief history lesson on New York and America during those three months. The commentary is interesting and appropriate since Questlove managed to assemble members of both the acts and attendees. But once in a while, I was sort of hoping we could have gotten just the performances unedited along the lines of the other festival documentaries. But maybe that's being saved for another bonus feature to this release.
            Despite the big turn-outs for the weekly local concerts, the professional footage shot of Harlem Cultural was shelved indefinitely for various reasons. While this was definitely a disservice to both the performances and camerawork for fans and the general public, the wait was practically worth it. "Summer of Soul" is a flashback to a time and place, a jam and vibe for music fans and a surprising potential directorial debut for Questlove. Between this and Edgar Wright's "The Sparks Brothers," summer of 2021 is also proving to be a great time for classic rock era documentaries.
Megan Bianco is a southern California-based movie reviewer and film historian, providing entertainment content exceeding 700 published articles to various publications since 2010. She has a degree in Film Criticism & Screenwriting from California State University, Northridge. You can follow her on Instagram @moviemuses.