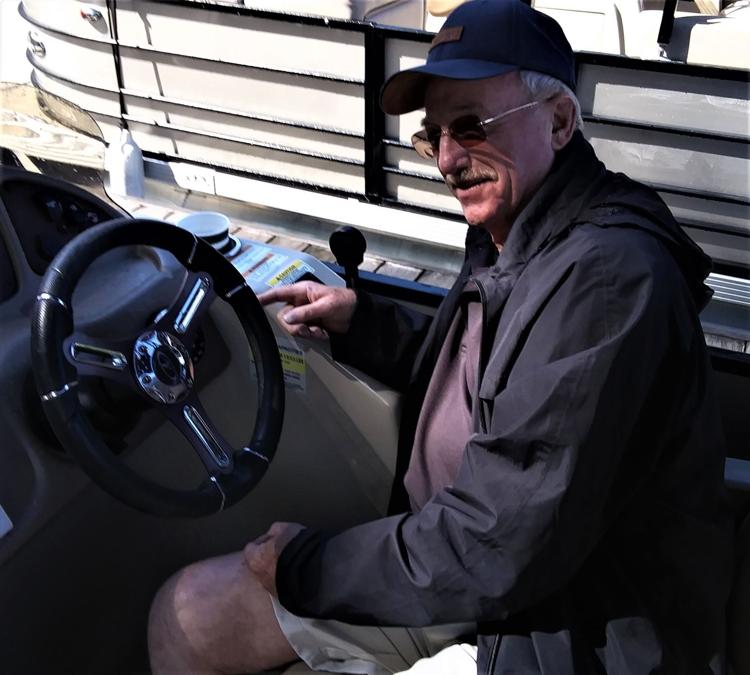 Your all-volunteer Big Canoe community radio station plays the greatest music of our lifetimes, 24 hours a day, 7 days a week.  With the kind assistance of our great friends here at Smoke Signals, we are able to better inform our greater community with articles like this--letting them know about our great station.  We have certainly enjoyed seeing our listening audience increasing each week and we want to let you know there is one heck of a bunch of room for new folks to join us.   Just this week, we tackled a new opportunity for listeners to engage at the marina on Lake Petit.
For anyone renting one of the fairly new pontoon boats, they are equipped with a Clarion stereo system with Bluetooth capabilities.  Should you already own a pontoon with a Bluetooth compatible system, you are one step ahead.  With the assistance of the professional and friendly marina staff, they are now prepared to share a step by step handout on how to download the Inside the Gates Radio free app for either Apple or Android devices and connect to the boat's audio system via Bluetooth.  Should you have any problems, the great marina staff is prepared to assist.  Once successful in connecting, your party on the lake will be complete with a most eclectic mix of music—just another terrific way to listen.  All you'll need to bring is your phone or tablet and if you already have the app on your device, even better. You are ahead of the game. 
Wherever our radio team ventures (socially distanced these days) into the Big Canoe community, we tend to always ask the question:  "Did you know that Big Canoe has a radio station?" or "Have you listened to Inside the Gates Radio?"  We get more NOs than YESes, but over time, the responses are leaning more to the yes side of things.  That said, we are wondering if we are asking the right questions.  A favorite question I specifically enjoy asking is "Why do you listen to Inside the Gates Radio?" 
Thought everyone might enjoy some of the responses:
You play such great music
One of the best mixes of music available and no commercials
The live shows are quite special, not only incredible music, but I learn so much from them
Your music creates and conjures up such great memories
I had not heard that song in so long, so great to hear it once more
I love this station. I tell everyone I know about it
Thanks for playing excellent music that we just can't hear any place else
We have a new tradition--listening to Inside the Gates Radio live shows.
We are committed to making this station befitting of our exceptional community that is Big Canoe.  Join us at any time of day, but make a point of tuning in during our live shows...
Saturday, 6:30 p.m., Dinnis Keefe's Saturday Serenade Show
Sunday, 4:30 p.m., Shiraz Alikhan's San Francisco Nights Show
Sunday, 6:30 p.m., Craig Looney's Looney's Tunes Show 
For more information and precise instructions on how to connect with us, please visit our website at www.insidethegatesradio.com. You can listen to the station by clicking on the Player link on the home page and get precise instructions on how to download the free Apps and Alexa system by hitting the FAQ link, also on the home screen. We look forward to sharing our outstanding music and creating musical memories with you all. 
Inside the Gates Radio: Music for people who think, played by people who feel--from beautiful Big Canoe.