"A recipe has no soul,
you as the cook
must bring soul
to the recipe."
- American Chef Thomas Keller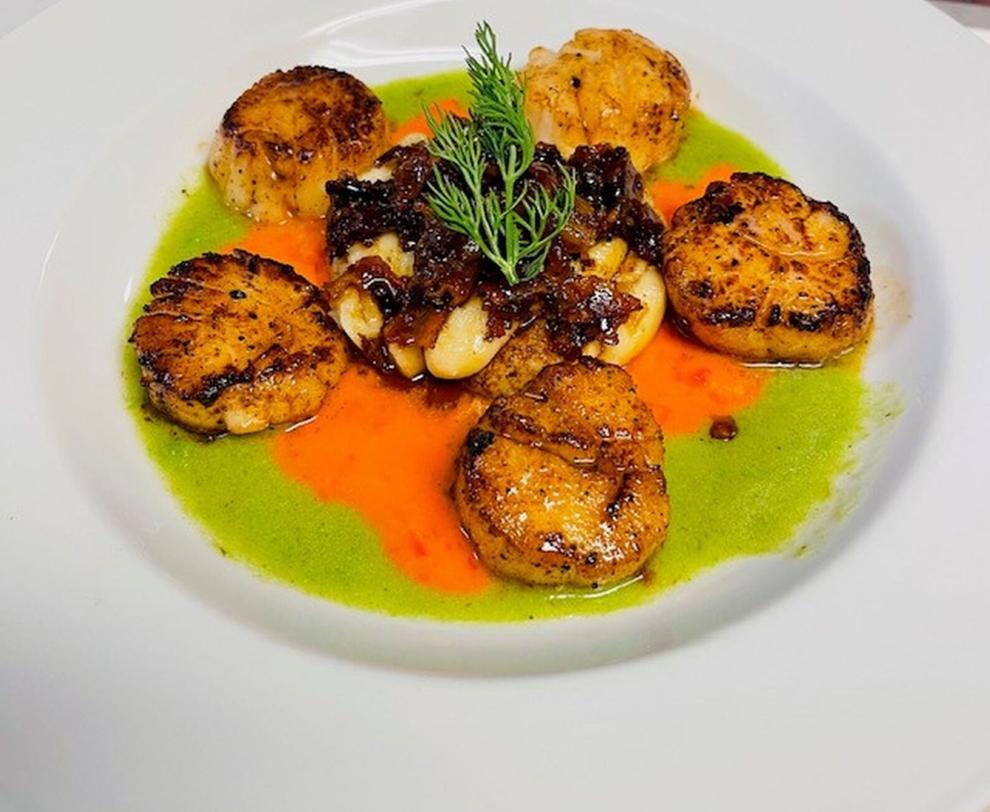 Easter Sunday was so beautiful, I felt like we had to get out for a road trip. We chose to pack up and head to Lake Rabun. One of the prettiest lakes in Georgia, it offers lots of places to eat, stay and enjoy fun water sports. It's the perfect kind of spot for afternoon walks and watching early evening sunsets with a good bottle of wine. I'd heard some great things about Lake Rabun Hotel & Restaurant and we were lucky to snag dinner and a room on a busy holiday. This column will give you a good review of what to expect if you visit the restaurant. 
            After check in, we changed into our fancy dinner clothes (read: not casual shorts with loafers and no socks). Not that there's anything wrong with that! We just always want to feel different from dining on the patio at home. The manager welcomed us warmly and took us to a nice table with a lovely "treehouse" view. Even though it was early, they were already busy indoors and on the screened in porch. They do offer outdoor dining in season but it was not open for this visit.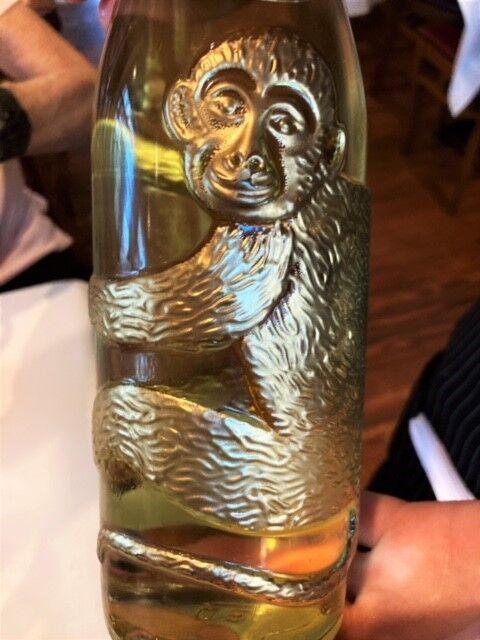 My husband looked over the wine menu and was happy to see two choices of Riesling. He decided to go with the Affentaler Winzer Eye of the Monkey. The striking bottle design was just another fun surprise for this excellent full-body wine that was not overly sweet; the perfect compliment to several offerings on the dinner menu.
            Our server was young, energetic and friendly. After delivering and opening our wine, he came back with scones and butter to eat while sipping. He hastily scooped up our menus and informed us the chef would like to do a tasting menu for us if that was alright. We said that would be great and sat back to enjoy our wine and the anticipation of what we might be eating.
            The music was pleasant and the atmosphere was laid back. There was a nice bar with seating that would make a great drink spot to just pop in before or after dinner elsewhere. Our first course arrived and we were pleased to see it was lobster bisque. The flavor was intense, rich and creamy, like you want it to be. There was a good drizzle of a green herb sauce and a nice dusting of fresh pepper making a pretty presentation. There were several large chunks of tasty fresh lobster, which I could have lived with or without, if for no other reason I found a couple pieces of shell in mine. Other than that small cleaning error it was a solid, great dish.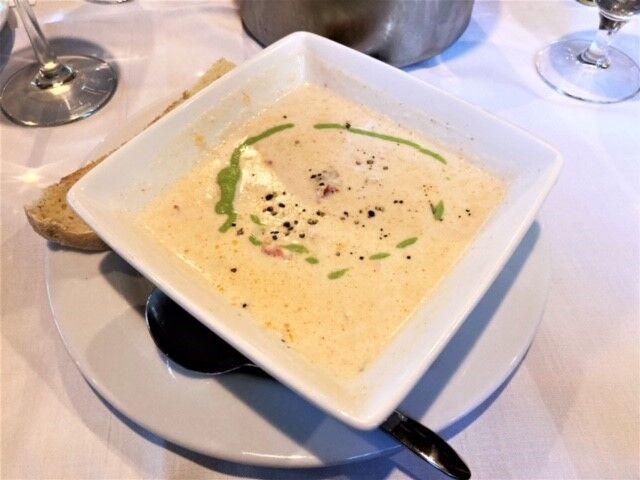 Second course was our salad. Chef chose to highlight vegetables and fruit instead of using typical salad greens. The unusual combo of cucumber and cantaloupe was presented with a lightly sweet tangy dressing and a dusting of nuts. I thought the idea was a spring/summer winner. The tasty dressing and texture, added with the crunchiness of the nuts was good. A peppery arugula might have enhanced the flavors he was trying to create. 
            Next up was probably the hit dish of the evening. Crispy-crunchy fried chicken livers with creamy sauce that had a good hit of spice. They were just the right doneness and ratio of crispy breading to meat. A sort of palette cleanser came out, a nice tart goat cheese that had been rolled in crushed sweetened nuts with cantaloupe on skewers.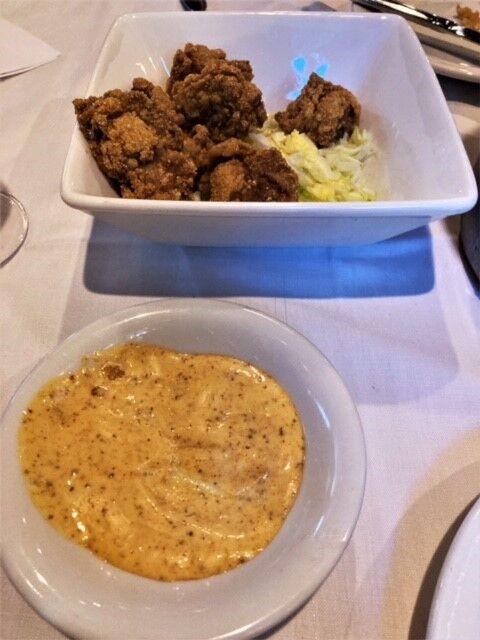 The last dish was a plate of ribs—a pretty big portion as well. The meat next to the bone was tender and flavorful. The smoky-crispy crust will make a lot of folks happy with a serving of root vegetables and small potatoes on the side. We could have had dessert but we told the waiter we just wanted an espresso and brandy. The coffee came with a lovely amount of delicious foam on top, and they had a good selection of after dinner drinks, too.
            The best surprise was the chef came out to introduce himself. We invited him to sit down with us and I was surprised to hear it was only his third day on the job. He told me he had been spending time getting opinions on the various dishes on the menu while testing some of his own recipes to come up with a brand new vision for the hotel. He said he wanted to keep that Southern flair that patrons seemed to like and expect, but with his own ideas, flavors and colorful sauces.
            Chef said he was making three test dishes the next day and would forward the pictures to me. He was going to make a tile fish (a type he prefers over most other fish) with black beans and rice, stuffed collard green leaves and scallops with a pimento cheese gnocchi. All of which sounded divine and the pictures he sent to me were so pretty and colorful. I'm pretty sure these plates are going to knock it out of the ballpark for their patrons.
            We gave him our thoughts on the dishes he served us; what our favorites were and why.  We also gave him our criticisms and where improvements could be made if he decided to keep the items on his new menu. We talked food in general and I felt he was very friendly, knowledgeable and customer-centered. I think he will be a very nice addition to the staff at the hotel.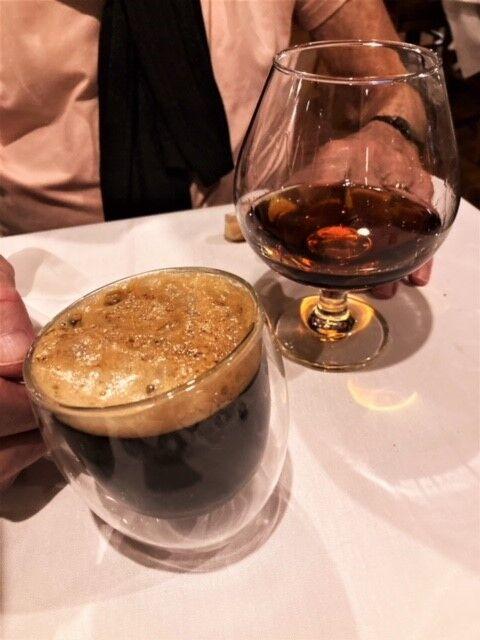 Breakfast comes with your room and changes daily. Ours happened to be eggs any way with a nice chubby link sausage that felt English in nature, which l liked very much. A bowl of grits and a slice of banana nut bread with a sweet fruit parfait made for a hearty breakfast.
            Chef Donnie Simmons may be new but I think he is going to do great things for the food program at Lake Rabun Hotel. Give him some time and go visit, tell him I sent you. My next column will tell you more about our wonderful stay at this quirky little gem of a property in North Georgia.
Artsy is a freelance writer, columnist and full-time blogger at www.ArtsyChowRoamer.com. The North Georgia mountains and Big Canoe offer the beauty, inspiration and quiet for the lonely endeavor of writing. Her husband and furry travel buddies are the best partners in crime. Don't be a stranger, follow her on Facebook, Pinterest, Instagram and Twitter.