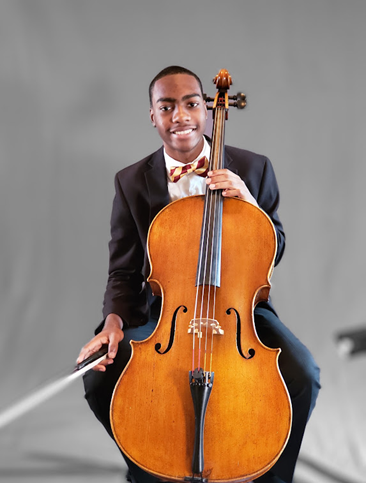 Stars of the Atlanta Symphony Orchestra Talent Development Program are featured as the first concert in 2022 of the Casual Classics Concert Series, Monday, Jan. 3, 7 p.m. at Fellowship Presbyterian Church in Jasper. Performing are violinist Gordon Meeks and cellist Brandon Leonard, accompanied by Dr. Jeffrey Meeks.
Works on the program include Beethoven's "Cello Sonata in C Major," op. 102; Fauré's "Après un Rêve," op. 7/1, Rakhmaninof's "Elégie," op. 3/1, Sarasate's "Carmen Fantasy," Villa-Lobos's "Song of the Black Swan," the Adagio from the "Violin Concerto No 3," op. 61 by Saint-Saëns, and "Oblivio" by Piazzolla.
Brandon Leonardis an11th grader at Chamblee Charter High School in Chamblee, Georgia. He began playing the cello in the fourth grade at Kittredge Magnet School in Atlanta. Brandon has attended summer music camps at the Atlanta Chamber Music Festival, the Tanglewood Junior Strings Intensive program and the Center Stage Strings program at the University of Michigan. Brandon was a participant in the 2017-2020 GMEA All State Orchestras. He served as principal cellist in 2017 and 2019 for the GMEA All State Middle School Orchestras and was principal in 2020 for the High School Orchestra. He was the 2018-2019 principal cellist for the Metropolitan Youth Symphony Orchestra (MYSO) Symphony group in Atlanta. He was also a recipient of the 2017, 2018 and 2019 MYSO Scholarship Awards. Currently, Brandon is a member of the Atlanta Symphony Youth Orchestra (ASYO) group.
In 2020, Brandon received second prize in the National Sphinx Competition Jr. Division and the Center Stage Strings Young Artist Solo Competition. He also received first place in the Georgia Philharmonic Samuel Fordis Young Artists Competition and the Hilton Head Concerto Competition. Most recently, he has been selected as a finalist in the Ronald Sachs International Music Competition in North Carolina. He enjoys the piano, which he has been playing for about nine years. Brandon is an honor student and participates on his school's academic bowl team. In church, Brandon participates in the youth ministry and serves as a youth usher. He is a member of the Decatur Alumni Chapter Kappa League. Brandon enjoys playing board games, trivia, watching TV shows from the '70s/'80s and listening to music.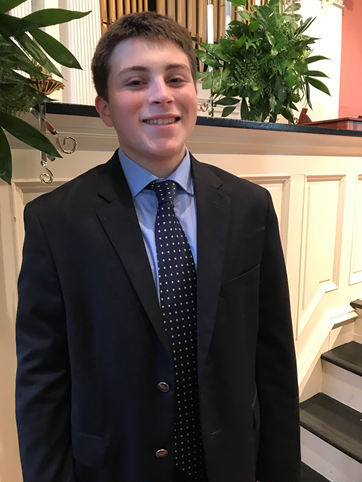 Gordon Meeks is a first-year violin student of Timothy Lees at the University of Cincinnati College Conservatory of Music where he attends on a full tuition scholarship. He was selected to participate in both the University Honors Scholars and Turner Scholars programs. Gordon is a native of Tacoma, Washington where he began violin studies at age 5. After finishing the Suzuki program, he was accepted into the studio of Dr. Svend Ronning, professor of strings at Pacific Lutheran University. During that time, Gordon was a member of the Tacoma Youth Symphony Strings. Upon moving to Kennesaw in 2014, he entered the studio of Jay Christy where he studied for four years. In 2018, Gordon transferred into the studio of Justin Bruns, Associate Concertmaster of the Atlanta Symphony Orchestra.
After becoming a Fellow of the Atlanta Symphony Orchestra Talent Development Program (TDP) in 2017, Gordon was selected into the 2018 GMEA All-State Orchestra Symphony, represented the TDP as a soloist for the 2018 ASTA conference, participated in the New World Symphony "in residence" master class program and performed in recital for Atlanta Music Clubs. In 2018, he attended the Brevard Music Festival during the summer of 2018 on a scholarship. Upon his return from Brevard Summer Institute, he won the concertmaster's chair for the Metropolitan Youth Orchestras of Atlanta (MYSO) where he won the 2019 MYSO Concerto Competition performing Bruch's "Concerto in G Minor," Op. 26, at the Rialto Theater in Atlanta. Notable performances include the Beethoven Quartet, Op 2, and Carlos Simon's "Elegy," at the Woodruff Center for the Performing Arts ASO's 25th Anniversary TDP Celebration Concert. His quartet represented the TDP and performed the "Elegy," in the 2019 finals of the "Franklin Pond Chamber Music Competition" at Spivey Hall.
In the summers of 2019 and 2020, Gordon attended the University of Indiana Jacobs School of Music "Summer Strings Academy." He attended the Cleveland Institute of Music's Summer Intensive 2020 where he studied with Stephen Rose and Ilya Krahler. He received a full scholarship to attend the Sphinx Performance Academy at CIM in 2020 and studied with Robyn Quinett. During his tenure in the Atlanta Symphony Youth Orchestra, he held a chair in the first violin section and served as Associate Concertmaster for one season. Gordon enjoys all sports, especially the NBA. He holds a black belt in Tae Kwon Do and loves cross-training exercises.
Since 2014, Jeffrey Meekshas served First Presbyterian Church as its Director of Music and Fine Arts. Prior to coming to Georgia, Jeffrey served the University Place Presbyterian Church at Tacoma, Washington for 13 years as minister of worship and music.
Jeffrey holds a bachelor's and master's degree from the University of Cincinnati College Conservatory of Music in piano performance and a second master's degree in Collaborative Piano. While at CCM, he taught in the secondary piano department, worked in the voice and strings studios as an accompanist, and won the prestigious CCM Concerto Competition. In 2008, Jeffrey received a Doctorate in Worship Studies from the Robert Webber Institute for Worship Studies.
He enjoys coaching and accompanying students and has been working with Brandon Leonard for three years.
There is no charge for admission, although contributions are gratefully received; donations from the series' patrons cover the expenses of these concerts. Following protocols established at the church, all those attending are strongly encouraged to wear masks while inside the facility and during the concert.
Casual Classics was established in 2007 by Suzanne Shull, then a resident of Bent Tree and member of Fellowship Presbyterian Church. Over the years, the series has featured many soloists and ensembles associated with the Atlanta Symphony Orchestra, faculty at Kennesaw State University and emerging artists. With Suzanne's move to Atlanta, Calvert Johnson stepped up to be the concert manager, beginning with the 2018-19 season. Members of the board of directors include Kelly Lohman, Lin Pollard, Marc Unger, Richard White and Suzanne Shull as past director.
For additional information, contact Calvert Johnson at 404-373-0748 or calvertjohnson@gmail.com.
Fellowship Presbyterian Church is at 389 Bent Tree Drive in Jasper.
Submitted by Calvert Johnson, Casual Classics concert manager