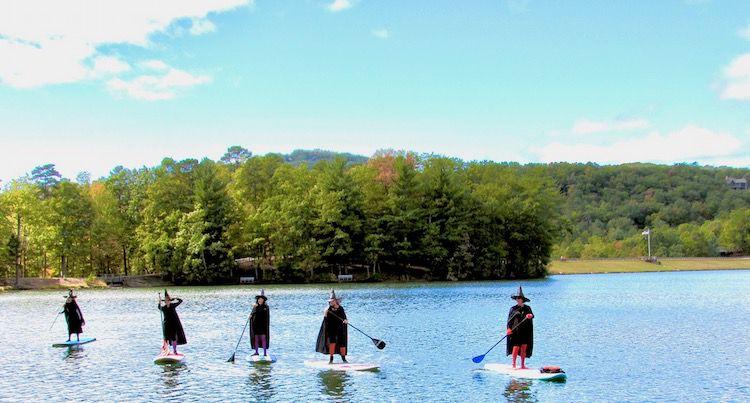 Double, doubletoil and trouble;
Fire burn and cauldronbubble.
Cool it with a baboon's blood,
Then the charm is firm and good
"Macbeth"
Water witches, the story goes, are magically drawn to the water—not only to the ocean, but they feel and must answer the call of river water—and especially lake water. Stories of water witches date back to the early 1800s when European immigrants brought their stories, traditions and, likely, their favorite witches to America.
It"s been said, in hushed tones, that Big Canoe"s own Lake Petit is a favorite watering hole for a local coven. These photos, taken by Jim Francis on Sunday Oct. 20, (as he hid inFV the forest near the lake) prove what many have long suspected: there are water witches living in Big Canoe. It"s believed they conjured up the powerful eagles who guard the lake from their perch high above Eagle Island.
A Smoke Signals reporter secretly interviewed Karen Steinberg, one of the water witches, and learned they all live in Big Canoe. It"s not a coincidence that these good water witches were paddling around on Lake Petit in preparation for Halloween
Steinberg claims they are all good water witches. The coven includes Steinberg, Kitty Murphy, Barb Henry, Dawn Polson, and Nancy Allen. Anyone who knows these ladies should—simply as a precaution—be very polite to each and every one of them all year long but especially on Halloween.
Of course, like any good witch, Steinberg posted the event on her Facebook page:
THE 5 GOOD WITCHES OF BC brought our Coven to Lake Pettit today!
We put our brooms aside and The Happy yet Magical Witches rode our Paddle Boards on Lake Pettit. The weather was brilliant, a sunny 70 degrees but a bit too breezy for hats and capes! We did our magic though and made them stay! 🧙‍♀️🤣
Was a hilariously, funny time together!
We wanted to brew up a very HAPPY HALLOWEEN to All!!
Asked about their plans for Halloween, Steinberg said she hopes to increase the size of their coven and maybe add a warlock or two to the group.