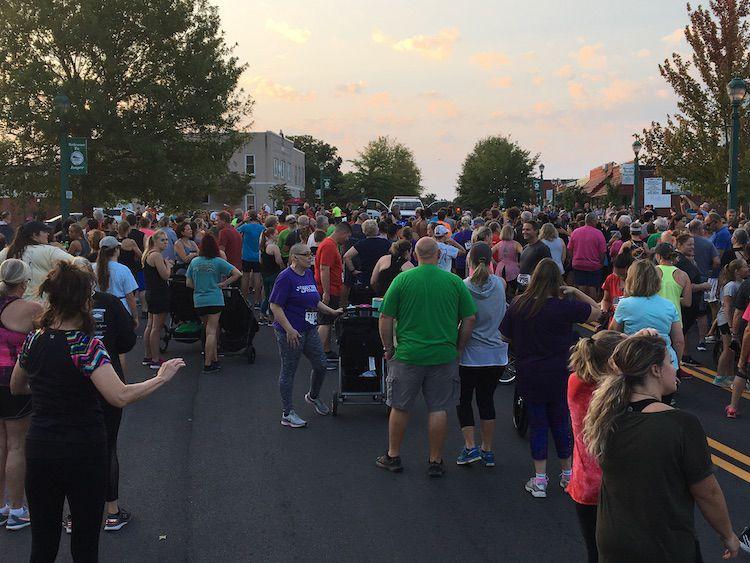 BY DENISE RAY. PHOTOS BY DENISE RAY.
As the sun peeked over the Blue Ridge Mountains in the early morning hours of Saturday, Oct. 5, participants in the annual running of the Georgia Marble Festival Road Race lined up, eager to get moving. Having stretched and completed warm-ups, 345 runners gathered in front of the Historic Pickens County Jail on North Main Street. Some pushed strollers, others ran with leashed dogs.
The overall winner was Connor Hedgpeth,15, who finished in a time of 16:52. Just half a minute later, Mason Ford,16, crossed the finish line at 17:29. Eric Pagel, 17, was third, finishing at 18.02.
The first female to finish was Laura Armstrong, 37, at 22:37. She was the 20th finisher. The second female finisher and 22nd overall, was Brittany Poole, 35, with a time of 22:41. Crossing the finish line 23rd with a time of 22:45 was Adriana Vann,16. She was the third female to complete the course.
The course was USA Track and Field (USATF) certified and relatively flat with an out-and-back pattern. It had a downhill finish behind the Jasper United Methodist Church.
The 5k was followed by a one-mile Fun Run.
Awards were presented in the church sanctuary and were given to the top three finishers in each age category in addition to the overall top finishers, Masters and Grand Masters age groups.
This was the 39th annual run and like its predecessors, it began the Georgia Marble Festival weekend activities. The race is sponsored each year by the Jasper United Methodist Women and proceeds go to fund the ministries of the Dorcas Circle whose focus is to be in service to women and children in the community.
Participation has been on a steady decline over the past few years. In 2017 there were 543 participants and last year had 420.
Next year"s event is slated for Oct. 3, 2020.