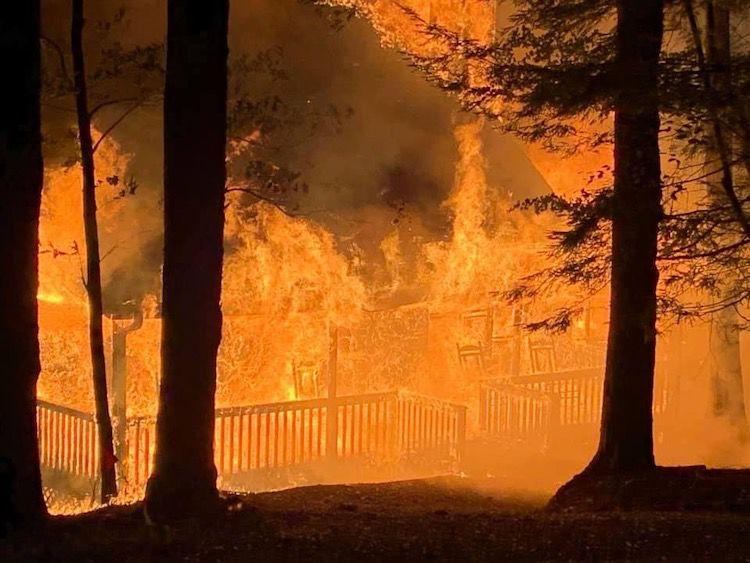 PhotoCourtesy of Big Canoe Public Safety
BY LAURA LINK
Friday night, October 11, weekend renters arrived and decided to build a fire in the fireplace at 81 Lady Slipper Lane and ended up causing the largest complete loss to a house in Big Canoe since an October 1, 2016 fire on Ridgeview Drive, according to Big Canoe Fire Chief Ricky Jordan.
Big Canoe C shift, Lt. Chip Rice and Firefighter Jeremy Grizzle were helping set up for Octoberfest at the Wildcat Soccer field when E 911 Dawson County received the fire call at 6:59 p.m., described as a "chimney fire."
First on the scene was a recent graduate of Big Canoe"s firefighters" volunteer support course Cal Hones at 7:06 p.m. who advised there was 50 percent involvement.
Firefighter Grizzle in the fast-moving responder truck arrived at the fire at 7:08 p.m. all the way from Wildcat. When he approached the turn from Columbine Drive, he saw the gravity of the situation as the entire sky was bright orange; an indication a simple chimney fire was engulfing the entire two-story structure.
A defensive mode of operation was declared, and numerous ground cover fires were extending beyond the structure. Big Canoe personnel deployed a rapid attack monitor.
Recently acquired ladder truck used first time
Firefighter Chris Moss, a part time firefighter on duty with Big Canoe and fulltime with the City of Atlanta, was at Station 3 in the village and quickly got the first engine to the scene at 7:12 p.m. Rice had the new ladder truck with him at Wildcat and quickly headed toward the mountain. He pulled the ladder truck between houses, raised the ladder and with a few bursts of water prevented the fire from spreading to other houses.
Lady Slipper being in the Dawson County part of Big Canoe sent engines from Company 6, Hubbard Road, as automatic aid support. Dawson County Fire Chief Danny Thompson arrived and took command of the structure fire. As dark approached, Big Canoe"s air and light truck, stored in the maintenance yard, was brought on scene.
Pickens County Fire equipment, including an ambulance, was called in as mutual aid to Big Canoe and Dawson County. Dawson was hit with multiple fires over this weekend and a rumor quickly spread an arsonist was setting them, according to Chief Thompson. He said that was only a rumor about an arsonist.
The Lady Slipper fire was under control at 8:03 p.m. Dawson County"s fire inspector confirmed Monday, Oct. 14 the fire began in the fireplace of the structure. There were no injuries reported.
Meantime, Chief Jordan and his son Brantley were at Ball Ground Elementary School"s Fall Festival. In 28 minutes, he was on scene after having to hike up to Lady Slipper from Columbine Drive with 40 pounds of gear on. Brantley, believing he was going to see a big fire upon arrival, was disappointed when the fire had been reduced to embers and small hot spots.
North Gate personnel remain on job for fire equipment
As the E911 call came in before 7 p.m. when the North Gate was supposed to close until 7 a.m. Saturday, gate personnel stayed over to allow all emergency vehicles in quickly.
Jordan told Smoke Signals on Monday, "Based on lack of rain, the severe drought and the remote location of the house, a delay could have caused us to have lost more than one house—possibly three or four neighbors." Crews maintained an all-night vigil for flareups and even continued to check on the remains Saturday.
With people ditching their land lines for cell phones only, emergency calls from cell phones will ping off different towers and may go to both Pickens E911 or Dawson E911. Friday night with several persons calling E911 using cell phones, Pickens had to relay calls to Dawson although the initial call went to the Dawson operator.
In all, Jordan said Big Canoe sent five trucks to Lady Slipper in addition to the equipment Dawson and Pickens sent. From Big Canoe there were 15 fire personnel on scene, 11 of which were support staff. In addition, there were 11 from Dawson and seven from Pickens for a total of 33 men and women on scene for a successful control, given the extreme dry weather conditions.
Undocumented postings on Facebook about the fire and a statement to fire personnel from a woman two mountains away saying initial response was 30 minutes to arrive at the fire scene were erroneous. Jordan and Rice both agreed that when waiting for emergency services to arrive it can seem like "forever" when response in Big Canoe has always been in record time, a fact they are proud of at Public Safety.
The Lady Slipper fire is a good reminder to everyone to have your chimneys cleaned by a professional chimney sweep before rushing to build that first fire of fall.