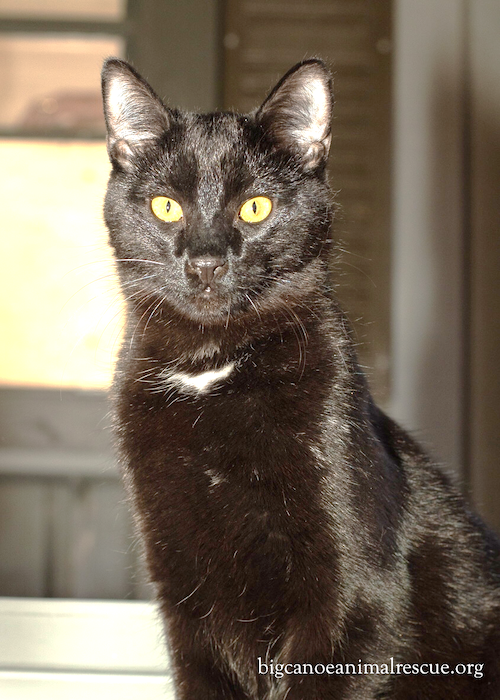 By Pat Kraft
Photograph by Mary Jo Cox
Yogi, BCAR"s Spokes Cat of the Year, is one big, beautiful young cat physically, and he also possesses a wonderful personality. We"ve decided the temporary BCAR name, Yogi, doesn"t fit at all. He should have been a prince or some more sophisticated name.
Yogi has been at Maggie"s House since he was a young kitten. He was one of two kittens rescued along with mom, Scarlett, from the Chestnut Knoll neighborhood of Big Canoe in September 2018. His mother and brother, Rocky, have found their forever adoptive homes. Yogi is a gem that still awaits his forever home.
The first thing you notice about our Yogi is his sleek beautiful black shiny coat and big green eyes. He is large and graceful in stature. But the best things about Yogi are his mild temperament and his wonderful manners. He gets along well with all the cats and kittens in Maggie"s house. Our volunteers adore him and try to spend time petting and brushing him. He loves to sit on laps too! Yogi"s days are pleasant, spending his time on the screened patio basking in the sun and watching squirrels. His dream, of course, is a home and loving family of his own. Please visit Yogi and our other cats and kittens at Open House at BCAR Maggie"s House on Saturdays from 11 am – 2 pm.
Also consider other ways you can contribute to the rescue work. Volunteering, fostering and contributions are always welcome.
BCAR is a 501(c)(3) nonprofit, no-kill shelter for homeless dogs and cats found in the Big Canoe community, providing them with a safe, healthy and positive environment until they are adopted into their forever loving homes. There are ways you can help. Your helping journey starts here:
Call BCAR (706) 268-1346 for information
Check out the BCAR adoption postings in the BCAR Postal Facility
Go to www.bigcanoeanimalrescue.org
Check us out on Facebook
Come to the BCAR Open House every Saturday from 11 a.m. to 2 p.m.
Volunteer.